Apples
How They Become A Fruit
Blossoms become apples through cross-pollination. This means pollen must travel from one flower to another primarily from bees.
The stamens of the blossom produce pollen. Whether its bees or wind, the pollen must then be dropped onto the pistils of
another flower. The pollen then travels down the "style," a long tube and enteres the ovary. This cau
The petals begin to fall off as soon as the seeds develop. Eventually the apple begins to form, first the apple core from the ovary, then the white part we eat forms outside the apple core.ses fertilization and the ovules in the blossom become the apple seeds.
Growing An Apple Tree
Growing an apple tree is difficult. A seed from a Red Delicious apple will not grow into a
Red Delicious tree. A seed from an apple is only half of the variety of that apple. The other half is from the pollen of another tree. This is because of cross pollination. So, if you plant an apple seed, you never know what variety might actually grow out of the ground.
Growers use a process called grafting to make their trees all the same. This helps them grow certain varieties.
Grafting is the process of taking a stem with leaf buds off the variety of tree  the grower wants and inserted into the stock of a tree. The tree will then begin to grow enough to start producing apples of the same variety.
Harvesting Apples
Apples are harvested at many different times of the year, all based on their variety. Most harvesting occurs between August and October.
For example, the Paula Red is an early harvest variety, ready to pick in eary August. The Fuji apple, on the other hand, is a late season variety that is ready to pick in late October.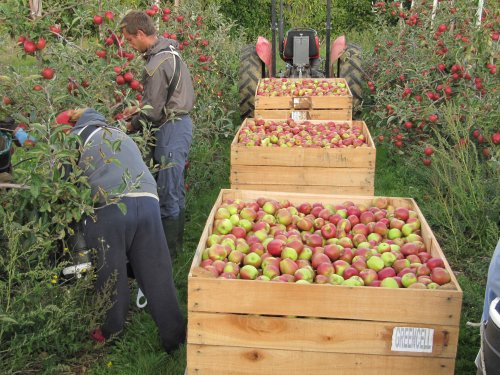 ---